10 Healthy & Simple Breakfast Ideas
Get the morning started off right!
Peanut Butter Granola
Combine ½-cup natural peanut butter and 100% maple syrup, and ¼-cup grape seed oil. Fold in 3-cups old-fashioned rolled oats and 1-cup raw peanuts. Bake on a rimmed baking sheet at 300 degrees, tossing occasionally, until golden, 30 to 40 minutes; let cool. Store in airtight container for up to 1 month. Serve with plain Greek yogurt or milk and berries.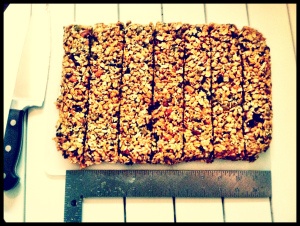 Powerhouse Cereal
Combine 1-cup raw almond slivers, 1-cup raw walnut pieces, 1-cup unsweetened shredded coconut, ¼-cup chia seeds, ½-cup wheat germ, and ½-cup dried cranberries if desired. Store in airtight container for up to 1 month.   Serve with plain Greek yogurt, 1 tbsp. almond butter mixed in, seasonal fruit, and a drizzle of honey.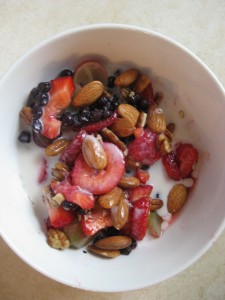 Morning Glory Muffins
Preheat oven to 400 degrees. Coat a 12-cup muffin pan with butter or vegetable spray. Whisk together 1/3-cup coconut flour, ½-cup dark brown sugar, ½-tsp. baking soda, ½- tsp. baking powder and ½-tsp. ground nutmeg until there are no lumps. Stir in 1-cup old-fashioned rolled oats and ½-cup raisins. Add 3-tbsp. extra virgin olive oil, 1 large egg, 1/3-cup milk, 4 medium carrots shredded, and 1 banana and stir until blended. Pour batter into each muffin cup. Bake for 23 – 25 minutes. Serve warm or at room temperature.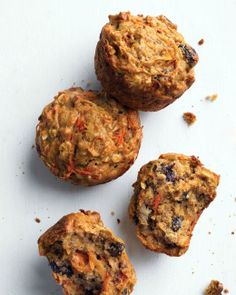 Avocado Egg Bowl
Cut an avocado in half; place 1 sunny side up egg in each half. Sprinkle with Sea Salt and pepper. Serve on a bed of spinach with cilantro and diced tomato if desired.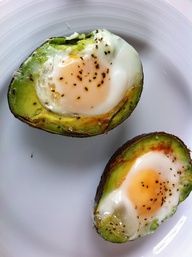 Good Morning San Diego
Blend: ½-cup ice, 1 large handful of kale, 1 apple, ½-squeezed lemon, a pinch of ginger, 1- tsp. flaxseeds. Add apple juice for extra sweetness and enjoy!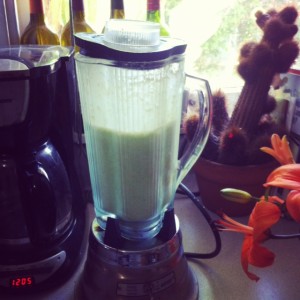 Happiness in a Glass
Blend: ½-cup ice, ½-cup unsweetened coconut/almond milk, ¼-cup plain Greek yogurt, ½-banana, 1-large tbsp. sunflower or almond butter, and 2 dates. Enjoy!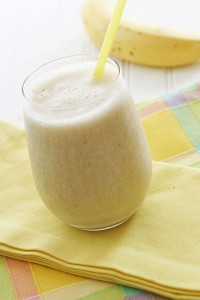 Waffle Wonderland
Top cooked waffle with banana slices, almond slivers and chia seeds. Drizzle with 100% pure maple syrup or local honey. *Substitute rice cake or freshly baked local bread for waffle if desired.
Croissant Egg Sandwich
Layer 2 fried eggs, raw Gouda cheese, arugula, and fresh tomato chunks with sea salt and pepper in between a halved croissant.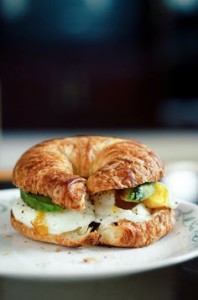 Papaya Boat
Cut 1 papaya in half length-wise and fill with a dollop of plain Greek yogurt, berries and banana slices.   Sprinkle chia seeds and homemade granola on top.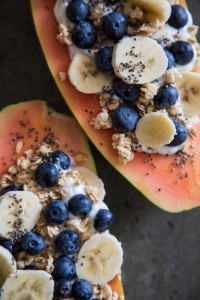 Breakfast Burrito
Bake sweet potatoes at 400 degrees for 45 minutes.  Scramble two eggs on medium heat in cast iron skillet with ghee or coconut butter. Half-way through cooking, add in feta, bacon, sweet potato, black beans, and avocado.   Wrap the mixture in a large fresh tortilla and top with homemade Mexican salsa.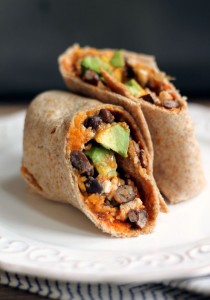 ~ Stick to organic, local, fresh and raw ingredients whenever possible xo