Eating healthy can be easy-peasy, nourishing and delicious.  This is the yummy salad I threw together with ingredients purchased from my local fruit stand (except for the feta)!  I do my cooking and food prep based on what is in season and easily available.
Salad Ingredients: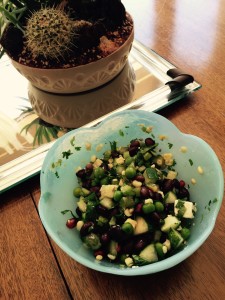 Corn
Peas
Cucumber
Black Beans
Pomegranate Seeds
Feta
Mint
Cilantro
Sea Salt & Pepper
Olive Oil / Balsamic
Rooted in easy food creations.