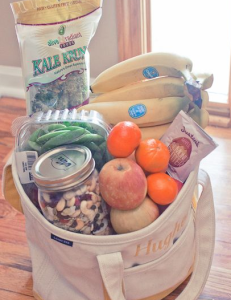 Stay on track no matter where you are headed!  Use these simple tips to improve your travel experience – staying ahead of the game and not behind.  Set yourself up for success. xo
1. Pack your sneakers – to squeeze in a walk, run or exercise class. Aside from reaping the benefits of the exercise, this will also help you make better choices when eating out. If you know your schedule is jam packed, choose to walk early in the morning or later in the day.
2.   Bring healthy snacks
– hard boiled eggs
– sliced precooked organic sausage
– string cheese / organic cheese cubes
– mixed raw nuts
– pistachios
– indiv. packets of peanut butter/almond butter and apple
– homemade granola bars
– trail mix bites
– fruit
– cut up raw veggies (string beans, broccoli, cauliflower, carrots, celery, cucumber) and hummus
– protein bars
– Kombucha
3. Find a market – upon arriving at your destination so you don't rely on full service restaurants or end up famished.
4. Stay hydrated – with room temperature water.
5. Scope out the scene – so you know where to purchase healthy foods on the go, perhaps a local gym, café, etc.
6. Plan ahead – so you know when meals will be served and when you are on your own. Don't have the starve and splurge mentality.
7. Pick and choose – when you go to a restaurant choose what you really want and eat slowly. Don't eat everything just because it's in sight: the bread, the pasta, the wine, the passed appetizers, the dessert, etc.
8. Be aware of alcohol intake – how often you are getting a pre or post dinner drink with co-workers, family or friends.
9. Try new food – enjoy your experience as much as you can and don't be too hard on yourself.
10. Enjoy yourself!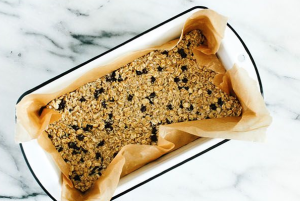 Rooted in traveling healthily and comfortably.